Our Story
Our story
Early years- 2013
Back in the year 2010, a Facebook feed appeared on Shani's wall, it was a picture of an amazing piece of art that was made and cut from paper; she was instantly fascinated and hooked on the idea of doing this herself. Shani's school days love and passion for design and creativity was reborn!
As a mother of two beautiful girls, her life was hectic, but being married to a serviceman just added to the nightmare busy lifestyle. Trying to have a steady simple life with a nice steady job was the impossible dream.
It was for those reasons The Crafty Giraffe was born.
Shani's past ventures would have been making baby dribble bibs out of textile with a sewing machine that she sold on Facebook, this was done more as a hobby just to pass the time whilst her husband was away in Afghanistan, hence why the Giraffe is wearing a red bib!
The Crafty Giraffe (minus the bibs) was started in February 2013 in a small 13 square foot room in Edinburgh, Scotland.
The website was launched on the 8th August 2013 and took its first order that same day.
In early September Shani designed and launched a new jumper Christmas decoration, this was to be the first piece of The Crafty Giraffe puzzle. As the Christmas range expanded, so did the orders.
With unavailable equipment, tools and staff needed to process the unexpected volume of orders. Help was quickly drafted in by neighbours, family and friends traveling from across the UK fortnightly to assist Shani getting the orders ready in the allotted time.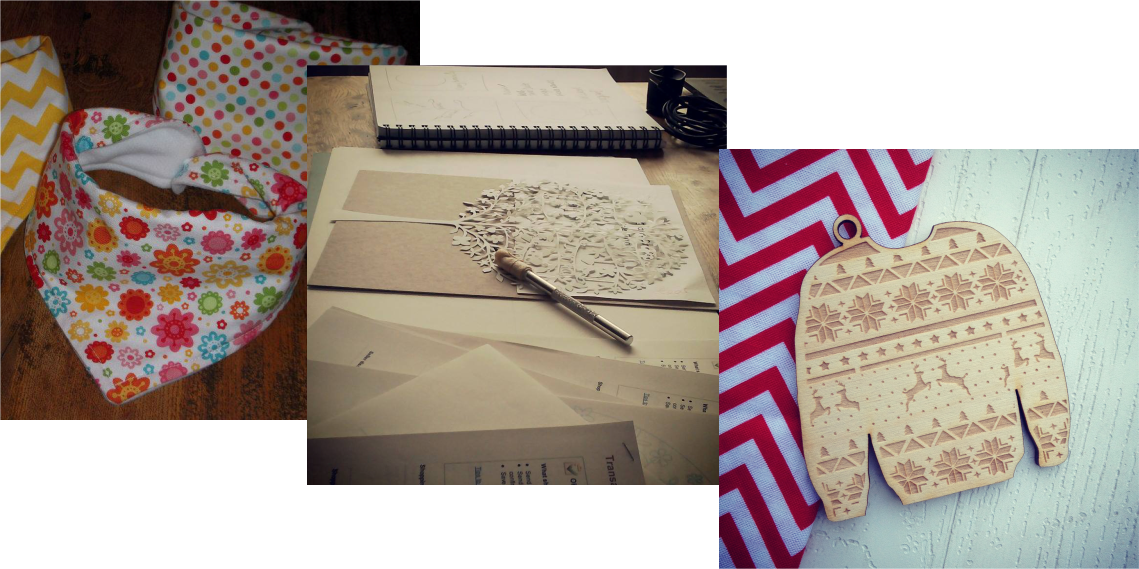 2014
With Christmas over, some rest, time to reflect and vital lessons learned; 2014 had a very different approach, the business invested in equipment, software and furniture and quickly got organised.
Early April saw The Crafty Giraffe relocate from Scotland to Monmouthshire and accommodated its first Service move without a hitch. Settling into a bigger office, Shani started work on new ideas, developing a range of new designs that were launched thorough the year.
In September the business again relocated but this time into its own space. This was welcomed by the entire household and just in time to prepare for Christmas.
With much better understanding from Christmas 2013 and the business relocated into it's own space. The words 'prior preparation' quickly became the new buzzword incorporated into all tasks! The new found friend PP (prior preparation) made the approach to Christmas 2014 very rewarding, both in terms of growth for The Crafty Giraffe itself and how the Christmas season was going to be managed.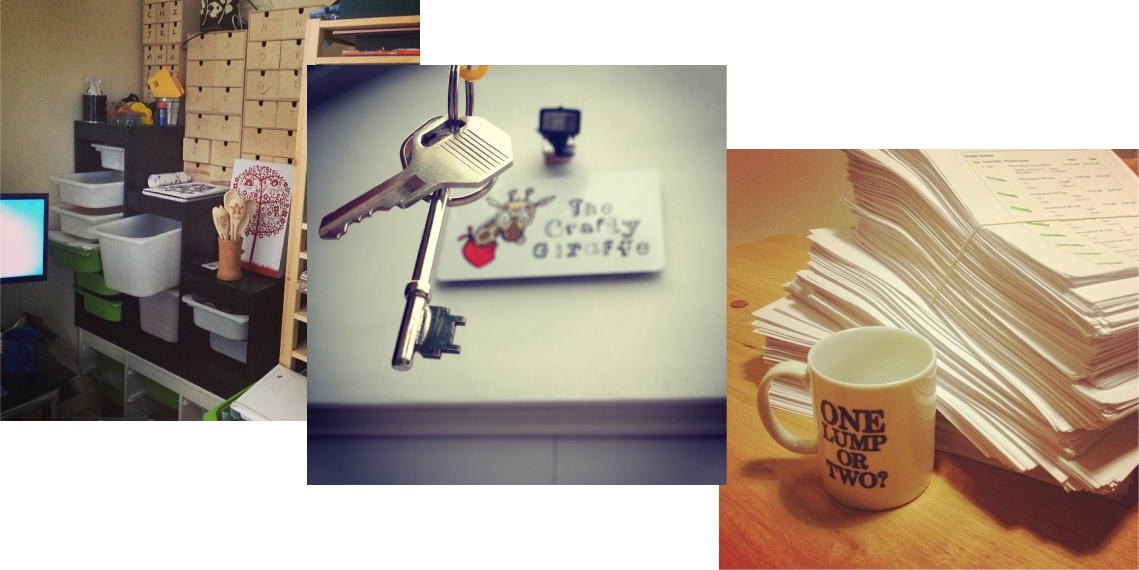 2015
January has now become the routine month for reflection. With a belly full of the enjoyment that Christmas brings, whilst in the spiritual (lethargic) mood. The opening question of conversation - Is it all worth it! Leading quickly into - What went wrong, how did it happen, what we did about it and where was PP? and what is he going to do about it for the future! Still, another Christmas done, with a much better result. PP did serve us well!
With another record breaking year to put into the draw of memories, there is no time for sitting around (ah, time, so precious, you are missed *snap out of it - get back to work*). Although successful with the new found friend PP on board, one factor overlooked was growth, and now has to be factored to go hand in hand with PP. As time goes by The Crafty Giraffe does not get smaller, it kind of has the 'snowball' effect. So how to plan for growth? How long is a piece of string?! (Where has my hobby gone? *get back to work*)
With a plan and big decisions made, The Crafty Giraffe had to invest in yet more machinery, office equipment, and find more space. As Shani was having a more 'serious' approach as opposed to 'what will be will be', it was only fitting that this was reflected into the logo with the application of a Trademark.
Armed with knowledge, better understanding and PP. The management process that got us through 2014 was already feeling the strain. Time for a spring clean! out with the old, in with the new... Restructure! and with that came time for The Crafty Giraffe to let go of 'mama's apron strings'. As of 1st August 2015 The Crafty Giraffe stands alone as a Limited Company.
With Christmas in our midst, the last piece of the 2015 puzzle was getting product photography ready for Christmas, we decided to add few non personalised items to the website. Time to hold on tightly and ride the storm, 2016 here we come!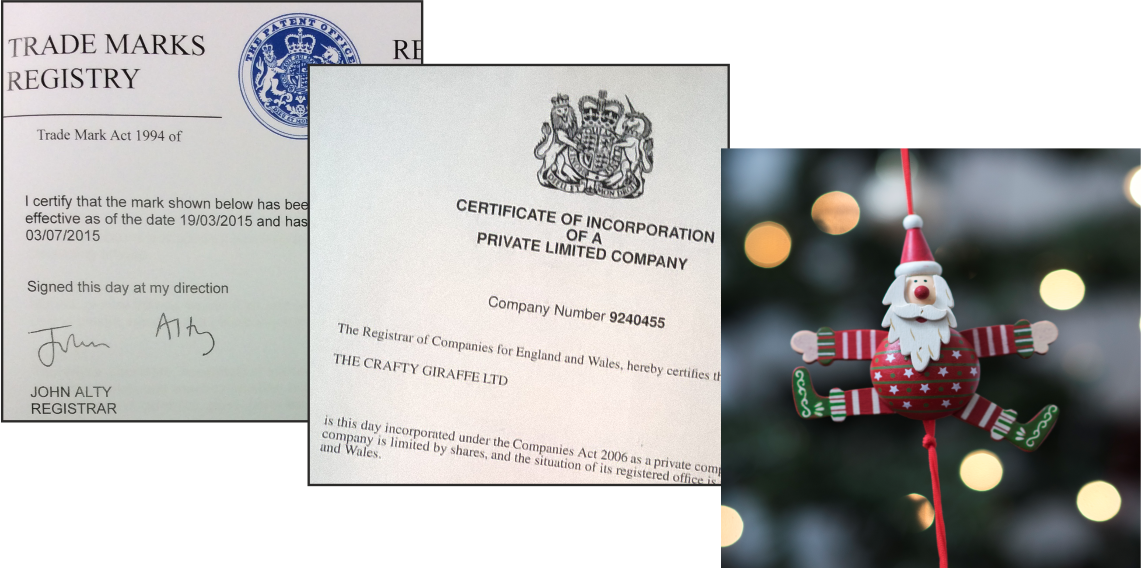 The Future...
There are no products listed under this category.